The Theme for Row by Row 2019 is Taste the Experience!
We are still working on our design!
Stay tuned for the big reveal!!


"Retro Radios" is the
2018 Row for The Creation Station
Our patterns are $8 and our kit is $29.99, and is available in our shop and on our website.

"Retro Radio" pays homage to my Grandfather who always wanted the best of everything especially his cutting edge radios of the 50's & 60's. I spent many hours listening to them while my Grandmother and I sewed. Good times and great memories.
The pattern has three sizes, Classic Row, Short & Sassy & an Alternative Quilt Size. The radios are fusible appliqué on a collectible attic window shelf. The dials and clock face are pre-printed on Belgium Linen and are included in our k

it as well as sold separately. Hope you like it!!



"How We Roll" is the
2017 Row for The Creation Station
Our patterns are $8 and our kit is $19.99, and is available in our shop.


Inspired again by Dawn's childhood, our row comes from her childhood. When she wasn't sewing, she'd be enjoying those summer days skating up and down the sidewalks near her home.
"Slow Road to Home Sweet Home" is the
2016 Row for The Creation Station
The annual Row by Row Experience was

June 21 and Sep 6, 2016. This was the time set aside for you to obtain your FREE Row Pattern! Although free patterns are no longer available, we still have plenty of kits and patterns for you to purchase!
You can purchase a COMPLETE KIT (includes pattern) for $19.99 or a copy of the pattern for $8.


The theme for 2016 Row by Row was "Home Sweet Home." This combined with Dawn's love of all things snail helped to inspire our design. We've included here some inspiring photos of childhood snail races!!! That's Dawn with the Farrah Fawcett hair and her hands on her knees in the first photo. That's Dawns Grandma in the center photo wearing the rubber gloves, helping out at "Field Day."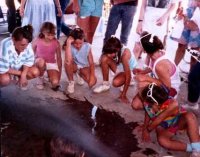 This is our 2015 Row Quilt titled, "Run Through the Sprinklers"
Kits $17.99 (includes pattern) and individual patterns available for $6
The theme was "Water" and
our inspiration was our own shop sprinkler collection
(...and maybe Dawn's early love of running through sprinklers!

Want to know more about the Row by Row Experience? Just visit the official website FAQ page. Here is the link: http://www.rowbyrowexperience.com/row-by-row-experience-faqs.htm