2019 - Coming Soon!

We are still working on our design, watch this space for more information and the big reveal!
Our past kits and patterns are available in our shop. We've included pictures and links on this page so you can see the fun designs Dawn has made for past years.
Row by Row Shop
---
---
2018 - Retro Radios
"Retro Radio" pays homage to my Grandfather who always wanted the best of everything especially his cutting edge radios of the 50's & 60's. I spent many hours listening to them while my Grandmother and I sewed. Good times and great memories.
The pattern has three sizes, Classic Row, Short & Sassy & an Alternative Quilt Size. The radios are fusible appliqué on a collectible attic window shelf. The dials and clock face are pre-printed on Belgium Linen and are included in our kit as well as sold separately. Hope you like it!!

Click below to get your row at our shop!

---
---
2017 - On The Go
Inspired by Dawn's childhood, because when she wasn't sewing, she'd be enjoying those summer days skating up and down the sidewalks near her home.

Click below to get your row at our shop!

---
2016 - Home Sweet Home
Dawns love of all things snail, along with childhood snail races, inspired our design. Below the links are a couple of throw back photos from Dawns childhood showing off her Farrah Fawcett hair, and her Grandma in the center wearing gloves, helping out at "Field Day."
Click below to get your row at the shop!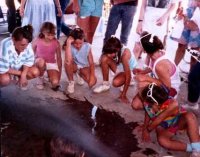 ---

2015 - H2O
Did you know our shop has a sprinkler collection? Our first row by row draws from Dawns childhood, and her love of running through sprinklers, what kid doesn't love running through the sprinklers?
Click below to get your row at the shop!
---
For more information on the Row by Row Experience, visit their website here:

RxR Experience